"Here's one of my favorite recipes that is perfect for summer. It is refreshing, delicious, so pretty, super easy to make and with red, white and blue, very appropriate for the 4th of July. Kids will love to help make this luscious salad/dessert."

– Carolyn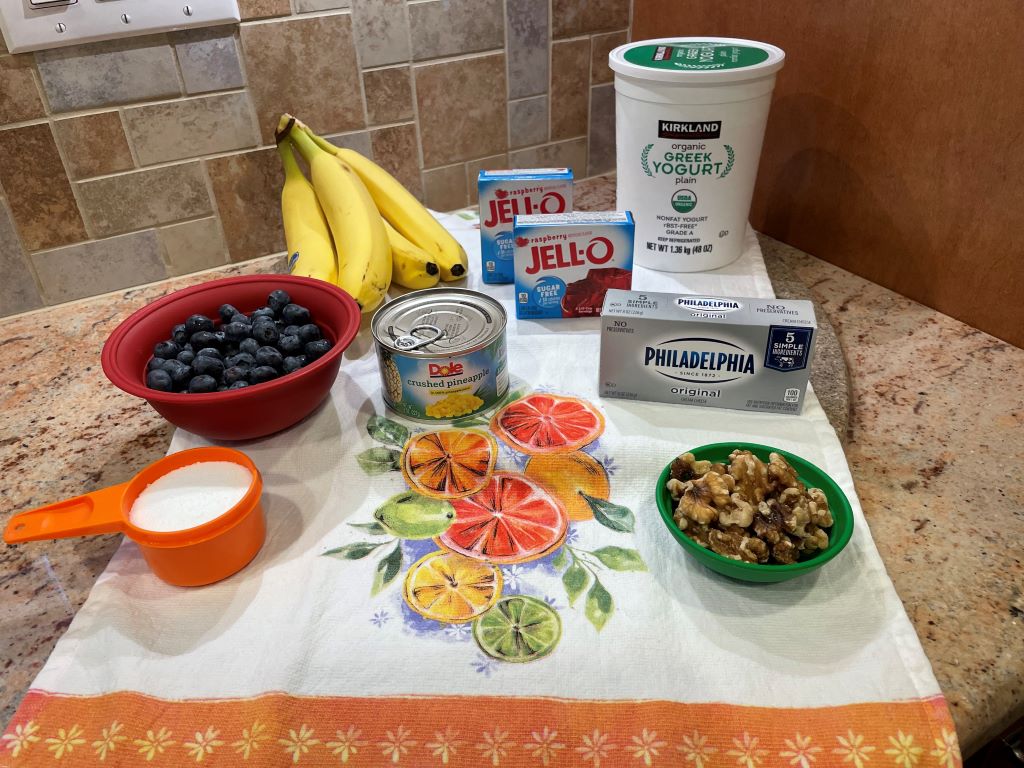 Time 20 minutes plus time for gelatin to set (several hours or overnite)
Serves 8 or more
275 calories each for 8 servings
Method
In a large bowl, dissolve two packages of Jello in two cups of boiling water, stirring to completely combine.
Drain and save juice on the crushed pineapple. Add water to saved pineapple juice to make one cup.
Stir pineapple juice with water into Jello mixture. Allow Jello to cool a little.
Stir crushed pineapple and blueberries into Jello mixture.
In a 9×13 serving dish, cover the bottom of the dish with banana slices.
Pour Jello mixture over the bananas and carefully spread the blueberries out so they are not all on one end as they float. Cover with wrap and refrigerate until firm.
In a small mixing bowl, beat cream cheese until soft. Add fat free Greek yogurt and sugar and continue beating until smooth.
Refrigerate until Jello has become firm, then spread this mixture on top. Sprinkle with chopped walnuts and fresh mint, if using.
Tips
This recipe can easily be made the day before and look perfectly fresh the next day.
I don't recommend low-fat cream cheese as it's too soft.
You can swap out the sugar-free Jello for regular Jello and use sour cream in place of the non-fat Greek yogurt. Personally, I don't think the extra calories are worth it. It is just delicious as written.
---
If you try this recipe, let me know what you think by leaving a comment below. I would love to hear from you!