Get Fit With Ashley is for everyBODY.
COME AS YOU ARE. All levels are always welcome!
HAPPY ANNIVERSARY!
Gallery
Class Descriptions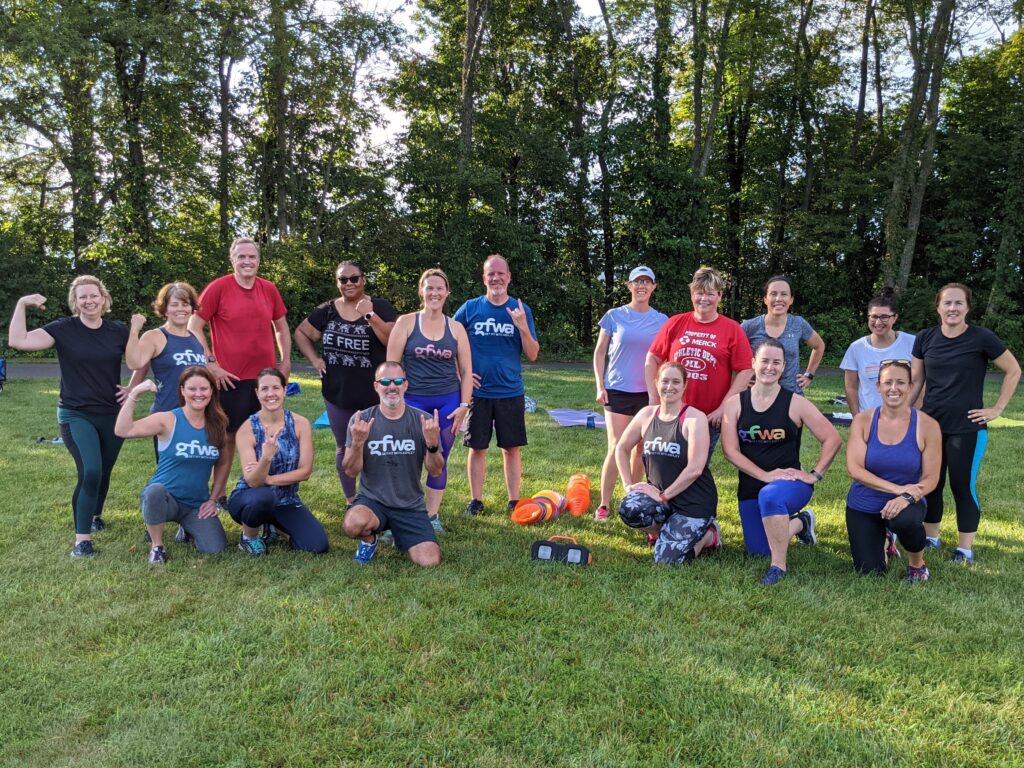 Boot Camp
Bring a mat, weights (2-10 lb) and your adventurous spirit for this outdoor summertime workout.

Join this fun and fit bunch for a creative strength, cardio, agility, speed and power workout that concludes with cool fitness games!

Indoors October-April & outdoors May-September.
---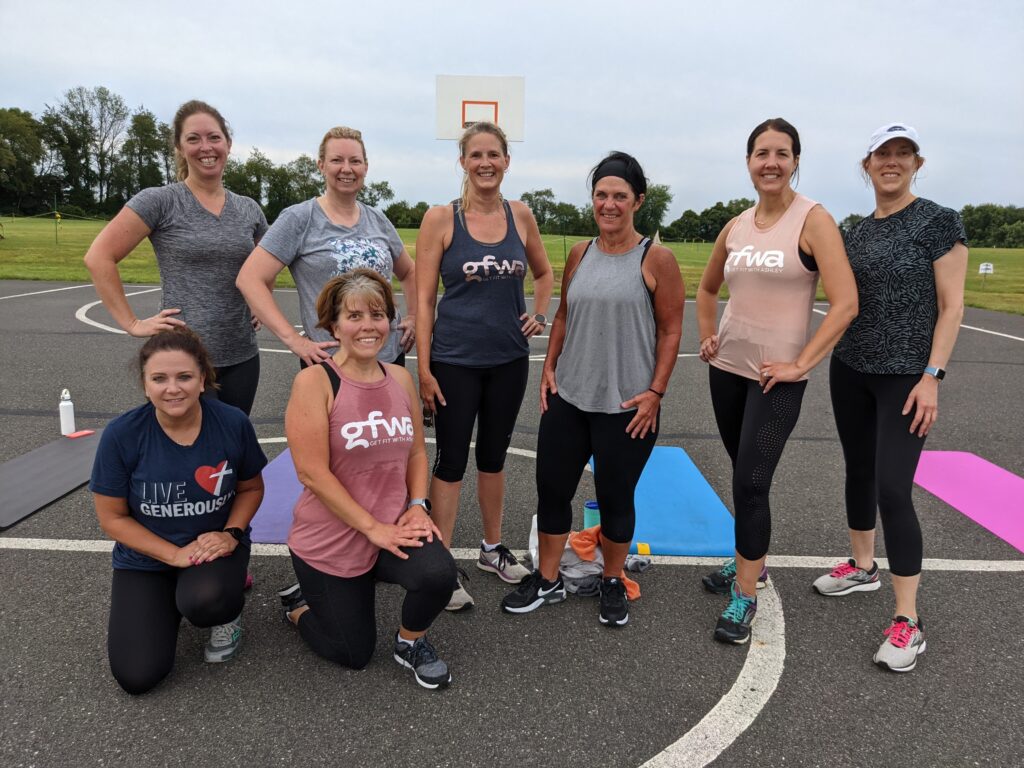 HIIT The Park
Lace up!

We start with a 10-minute (~ half mile) power walk then get right into our body-weight cardio HIIT (high intensity interval training). Lots of core strength work mixed in, too! Low impact is always an available option. Bring a mat.
---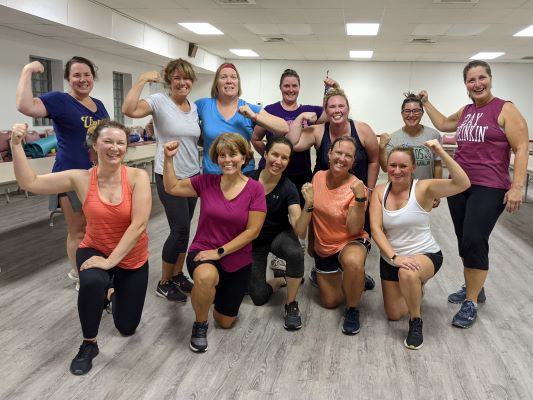 Power Hour
Strong is the new skinny!

Join me for strength circuits and isometric exercises. This class is low impact strength work. Bring light weights (for biceps/triceps), medium weights (for rows/shoulder presses) and a mat.
---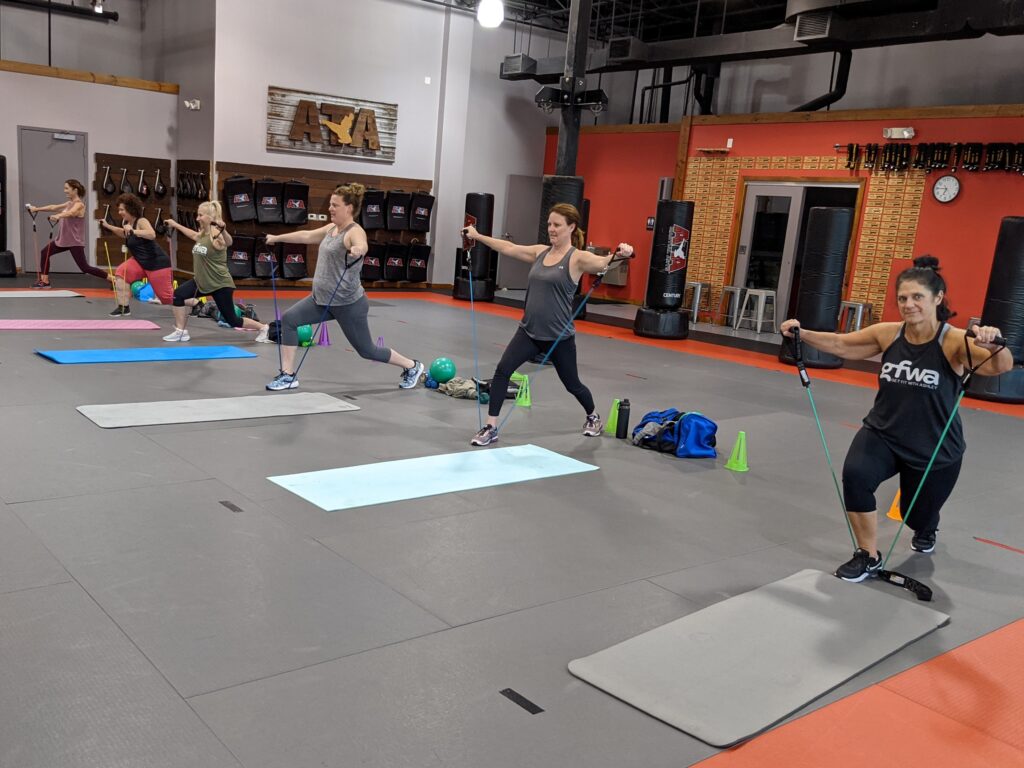 Strength Synergy
In this full-body strength class we mix various modes of strength training to get more out of our workout. Synergy is a challenging and unique combination of strength training with some dedicated time to work on balance and flexibility.
Bring light dumbbells (1-3 lbs), an elastic tube with handles, a 9″ Bender ball and a mat.
---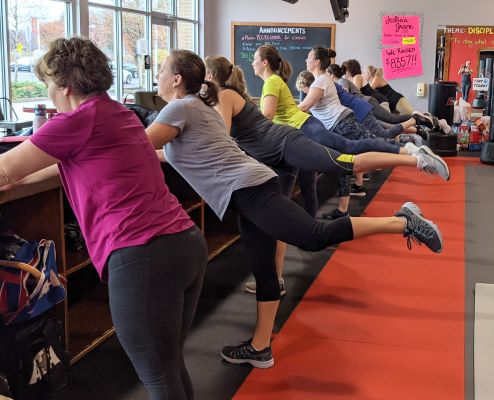 Barre 360
A total body barre workout!

Join us for routines choreographed to fun energetic music and get your full body workout in with no jumping! No previous barre or dance experience needed. Bring light weights, a Bender ball and a mat. Bender balls, barre socks and gliding discs are optional and available for purchase.
---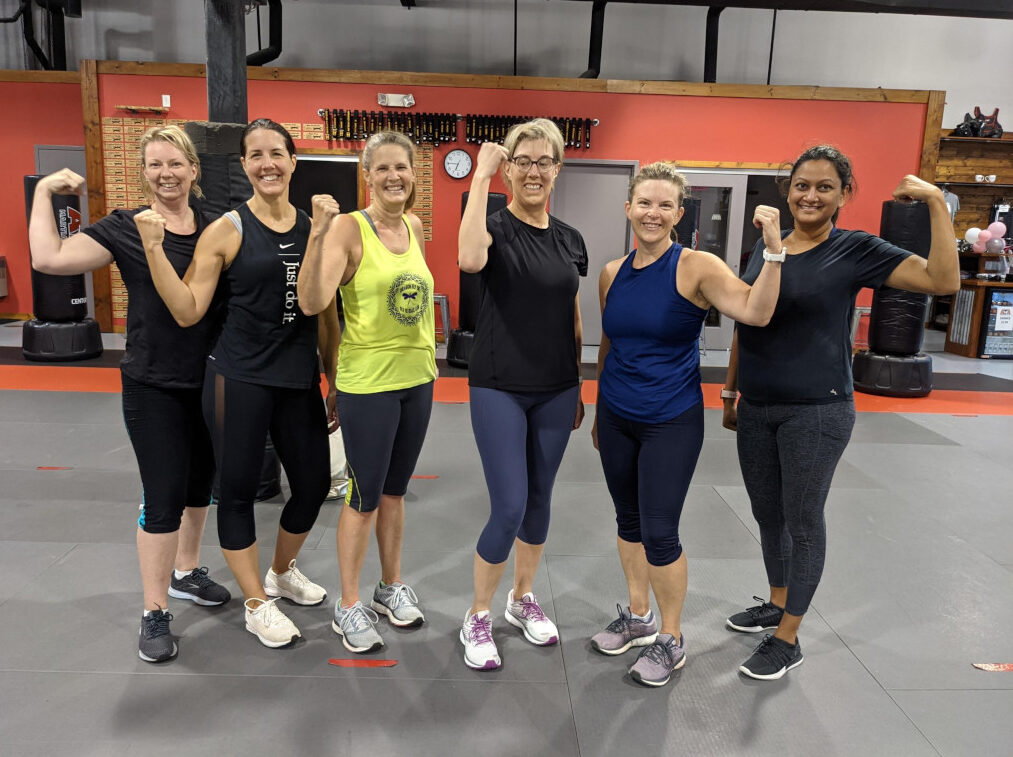 Cardio & Core
All you need is a mat!

Join me for body-weight cardio intervals separated by circuits packed with core exercises that burn. Low impact movements are always an option. This is a complete full-body workout.
---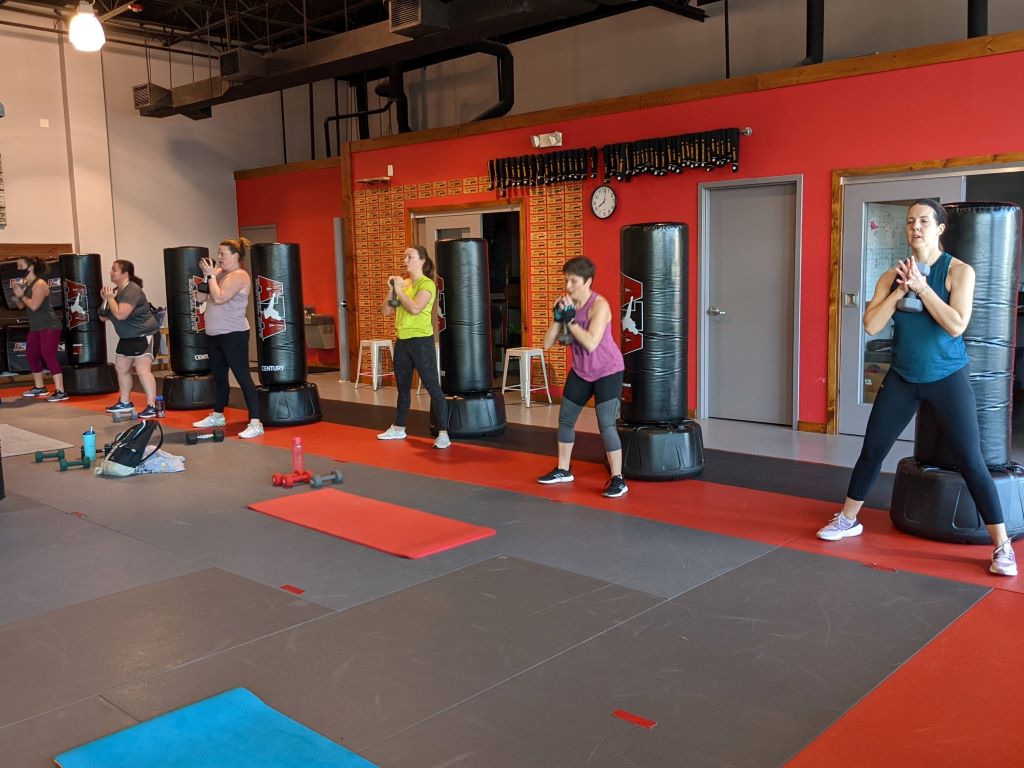 Heavy Lifting
Lift Heavy, Get Stronger!

Lifting heavy weights helps muscles get stronger, build confidence and fight the loss of muscle mass that naturally occurs with aging. Bring 2 sets of heavy weights (5 lb – 20 lb) and a mat.
---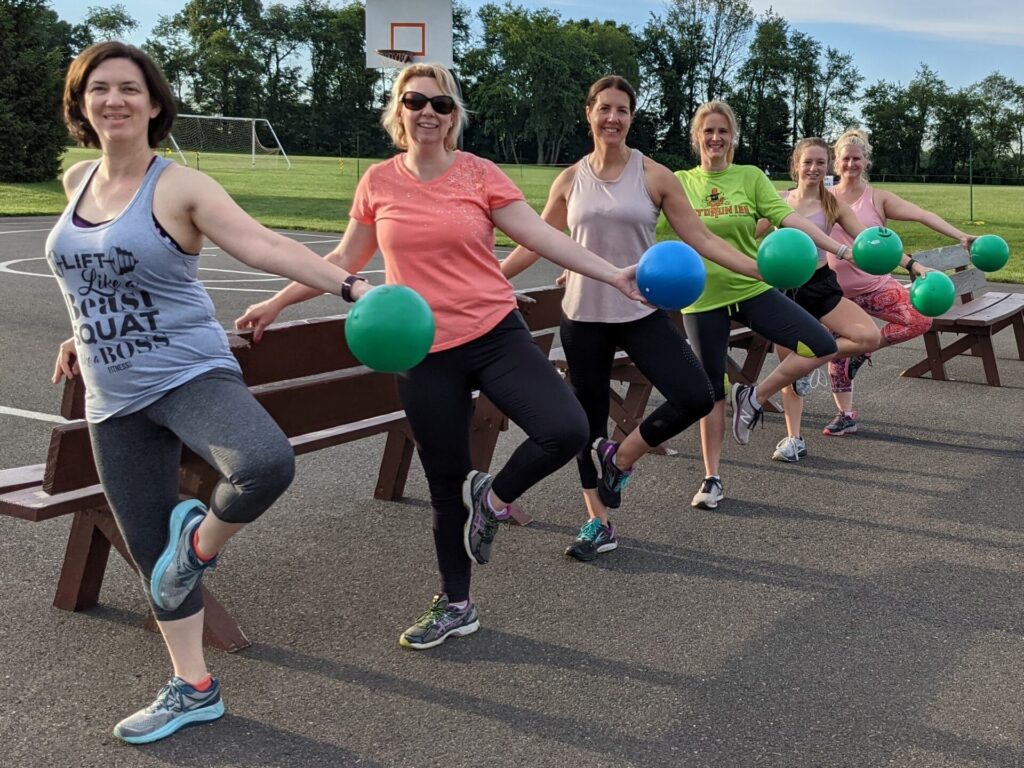 Fusion Fitness
Small movements make big changes.

This class is mostly core and lower body work and concludes with a full-body flexibility block. Bring an elastic tube with handles, a 9″ squishy exercise ball and a mat. We will explore balance, strength, barre and Pilates movements.
Class Passes
FREE First class for all new students!
Join my Birthday Club for $10 off during your birthday month
Just create an account and you'll be assigned a free pass.
Policies
Class Registration
Online registrations are required in advance for all classes. Some classes have a maximum number of participants. If a class is full, you may join the wait list. Each participant will be required to complete a Waiver online before booking their first class. GFWA group fitness classes welcome people of all fitness levels. Ages 14+ please.
Payments
In order to reserve your spot in class, payment must be made in advance. You may purchase passes online here. My online booking system takes credit card payments. However if you prefer to pay with cash, check or Venmo you may do. Please notify me or pay in advance and I will manually add your class pass to your account. All purchases are nonrefundable.
COVID-19 Health & Safety Plan
Proof of COVID-19 full vaccination is required to attend all indoor classes. Bring your vaccine card or a picture of your card on your phone (no blacked out markings) to me on or before your first class. If you forget your card you will not be permitted to attend an indoor class. Please follow current CDC guidelines for quarantining and do not come to class if you have COVID-19 symptoms.
Equipment
In some classes we use equipment such as dumbbells, Bender balls and elastic tubes. The use of equipment enhances the workout, but the workouts can be done without the equipment. If you are taking a class for the first time, this equipment can be provided for you to borrow. However if you are a regular class participant, you must purchase your own equipment, either from me or another retailer.
Refer a Friend
Current clients will receive a $10 GFWA gift card for referring a new client who signs up for group fitness, personal training or health coaching. A new person is a client who has not participated in anything GFWA since January 2021. Gift cards may be redeemed for GFWA services (classes, training, coaching) but are not valid on merchandise, special programs & events or gift card purchases. Gift cards expire one year from the date issued. Gift card purchases are nonrefundable. Purchase gift cards here.
Birthday Club
It's easy to join the GFWA Birthday Club! Just give me your birthday month and day. During the month of your birthday every year I will send you a $10 discount code for the purchase of any group fitness class pass. The code will be valid to purchase a group class pass during your birthday month, but you do not have to use the pass that same month.
Class Cancellations
If you need to cancel a reservation, you may do so by logging in to your Punchpass account. You may cancel or reschedule your reservation up to 10 hours before class starts to avoid being charged for the class. If there is a wait list for the class, the next person on the wait list will be notified that their spot is open.

If I have to cancel a class due to weather conditions or personal circumstances you will be notified by email and my schedule will be updated. I may not be able to provide 10 hours notice in some circumstances. You will not be charged for classes that I cancel.