Get Fit With Ashley is for everyBODY.
COME AS YOU ARE. All levels are always welcome!
YOUR FIRST CLASS IS FREE!
Join my Birthday Club for $10 discount on group classes during your birthday month.
Bring a new friend and earn $10 discount code to use within 30 days.
Gallery
Class Types
GFWA has lots of class types that are offered at different times throughout the year.
Want to see the classes on the current schedule? Click Here!
---
---
---
---
---
---
---
---
---
---
Spring '23
The Spring Schedule runs from May 1 – June 30, 2023.
Please check the live schedule to confirm class changes on holidays or bad weather days.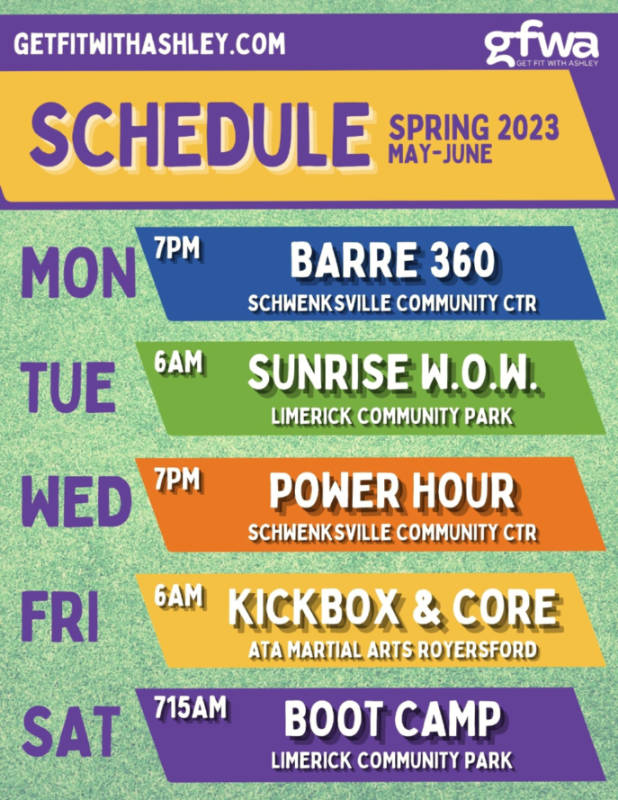 Summer '23
The Summer Schedule runs from July 1 – August 31, 2023.
Please check the live schedule to confirm class changes on holidays or bad weather days.
IMPORTANT!
There are breaks in the group schedule during the summer months. All clients with an active group class pass on July 1 will have their expiration date extended until August 31. If you purchase a pass after July 1, please note the number of classes available on the schedule for you to attend.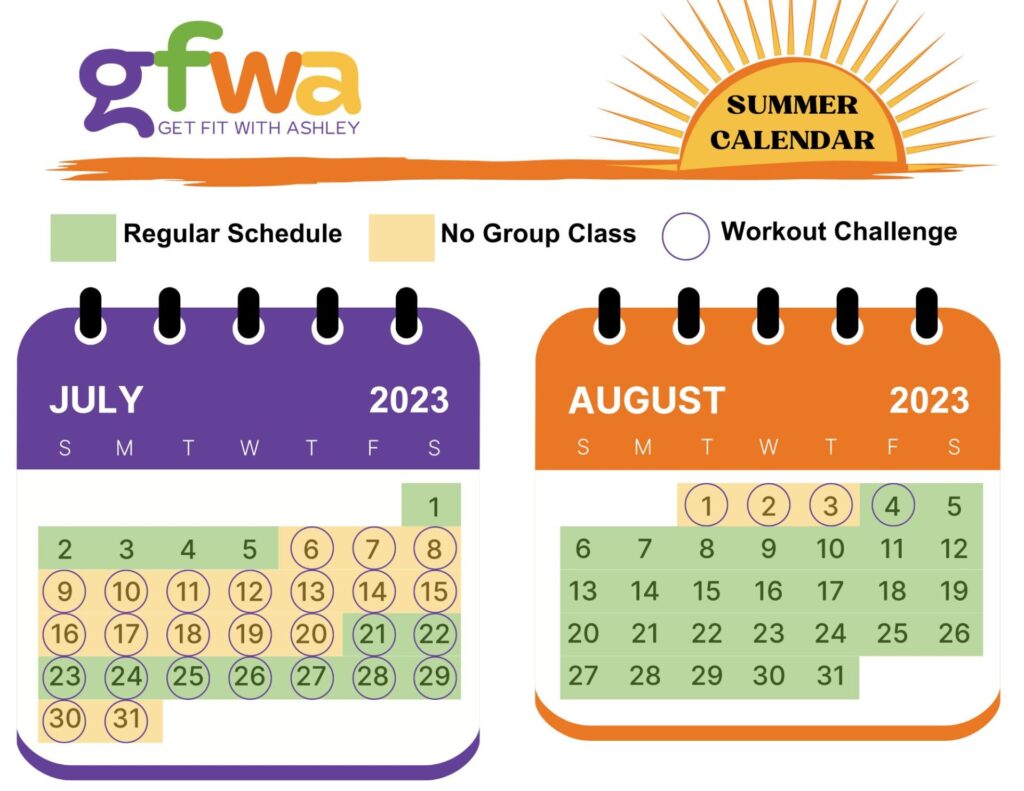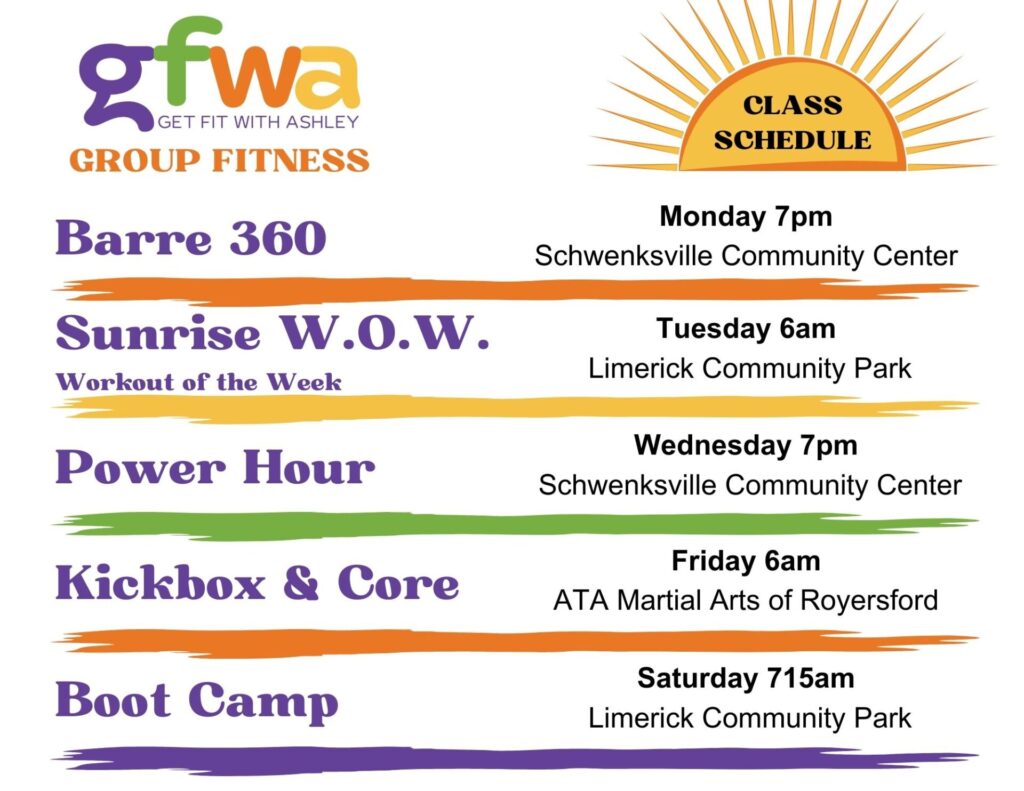 Passes
FREE First class for all new students!
Join my Birthday Club for $10 off during your birthday month
Just create an account and grab your free pass.
Policies
Class Registration
Online registrations are recommended in advance for all classes. Some classes have a maximum number of participants. If a class is full, you may join the wait list. Each participant will be required to complete a waiver online before booking their first class. GFWA group fitness classes welcome people of all fitness levels. Ages 14+ please.
---
Payments
In order to reserve your spot in class, payment must be made in advance. You may purchase passes online here. My online booking system takes credit card payments. However if you prefer to pay with cash, check or Venmo you may do that. All pass purchases are nonrefundable.
---
Equipment
In some classes we use equipment such as dumbbells, Bender balls, gliding discs and elastic tubes. The use of equipment enhances the workout, but the workouts can be done without the equipment. If you are taking a class for the first time, this equipment can be provided for you to borrow. However if you are a regular class participant, you must purchase your own equipment from me or another retailer.
---
Refer a Friend
Current clients will receive a $10 GFWA discount code for referring a new client who signs up for group fitness, personal training or health coaching. Refer a friend discount codes may be redeemed for GFWA services (classes, training, coaching) but are not valid on merchandise, special programs & events or gift card purchases. Refer a friend discount codes expire 1 month from the date issued.
---
Birthday Club
It's easy to join the GFWA Birthday Club! Just give me your birthday month and date. During the month of your birthday each year I will send you a $10 discount code for the purchase of any group fitness class pass. The code will be valid to purchase a group class pass during your birthday month, but you do not have to use the pass that month.
---
Class Cancellations
If you need to cancel a reservation, you may do so by logging in to your Punchpass account. You may cancel or reschedule your reservation up to 10 hours before class starts to avoid being charged for the class. If there is a wait list for the class, the next person on the wait list will be notified that their spot is open. If you can not attend class and it is within 10 hours of start time, you will be charged for your late cancel. Only in the event of a true emergency may you be excused from a late cancel.

If I have to cancel a class due to weather conditions or personal circumstances you will be notified by email and my schedule will be updated. I may not be able to provide 10 hours notice in some circumstances. You will not be charged for classes that I cancel. In addition, if there are no sign ups for a class within 1 hour of start time, the class will be canceled.