---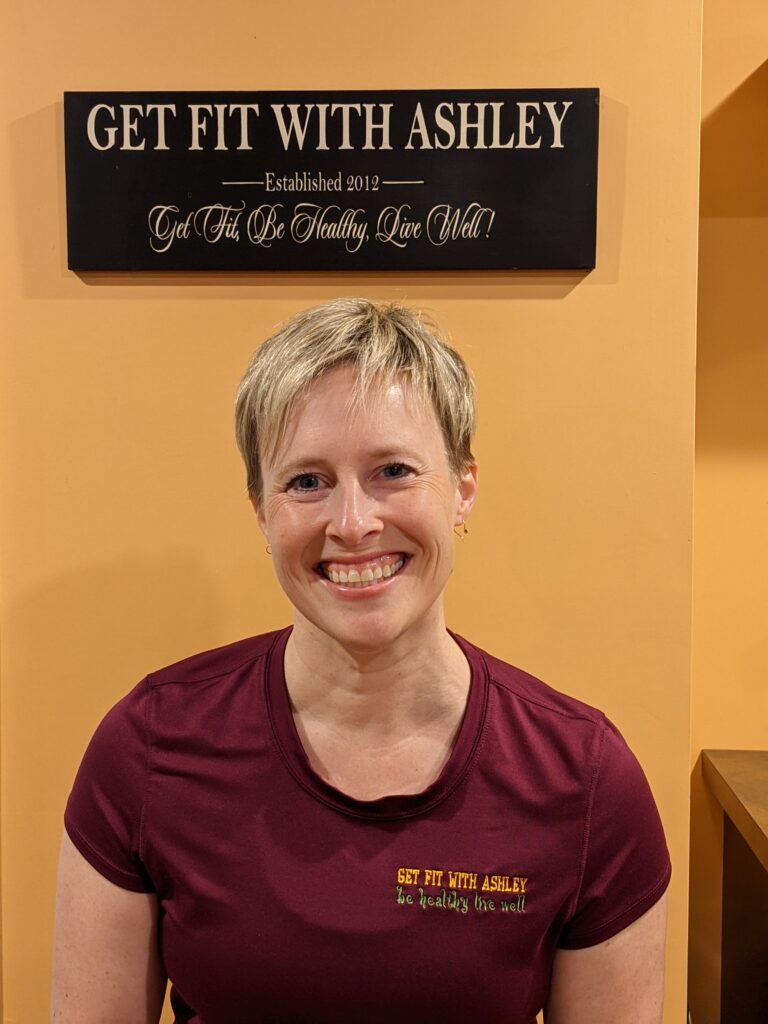 Hi and welcome to Get Fit With Ashley, the best place to find personal training and group fitness programs for the Collegeville, Schwenksville, Limerick and nearby communities. Also, I'm so excited that many of my programs accommodate virtual clients too, so nobody is too far away!
I'm Ashley… mom, friend-for-life, fit coach, kitchen-dancer, over-doer and the proud founder of Get Fit With Ashley, LLC! I'm on a journey to live a healthy and happy life, but my passion for health and wellness goes far beyond my own personal journey. I want to use my skills, knowledge, experience and passion to get YOU on a path to transform your life into the fittest and best you can be. You deserve to feel good about yourself! Let me show you how, I want to help you.

I have always loved to dance and be active. During my 6 years in college, I put my passion on hold as I earned bachelors and masters degrees in engineering. In the many years since then, dancing and fitness were just a hobby for me. Meanwhile, I focused on growing my technical career working in exciting industries like pharmaceuticals, consumer products, semi-conductors, motorcycles and furniture. All great experiences that I am super thankful for. But at the same time, I found myself moving my passion for health and fitness beyond just a hobby.

After moving to the Collegeville area in 2004, I joined a local dance aerobics class. Soon after, I pursued my group exercise instructor certification and began teaching that same class. With my enthusiasm, skill and genuine interest in the students, I was about to grow the membership in the class beyond what the local Fire Company could accommodate. That's when it clicked. I had found work that made my heart happy and made others happy too. My passion for teaching fitness classes grew as my relationships with my students became more personal. Many of my students have become my friends and I feel so blessed to have seen them grow tremendously in their journeys with my programs and support.

In 2011, I became a certified personal fitness trainer and in 2012, Get Fit With Ashley, LLC officially became a company! Shortly thereafter, I started training clients one-on-one and running group fitness classes of my own. I was amazed to discover what a privilege it was to work closely with a client and to really get to know someone and their roadblocks and motivations. Every client is different, but all have the same goals – to be healthier and happier. Regardless of age, gender or abilities, I am always able to find a harmony with my clients. Making a personal connection with a client, and coaching them through setting and achieving their goals is what I was meant to do with my life. So, bravely in March of 2021, I left my corporate job to pursue my dream, Get Fit With Ashley!

In addition to my creative group fitness classes, many clients are interested in weight loss – how to get started and how to sustain. As a certified Health Coach, I offer coaching sessions related to lifestyle and weight management. Coaching sessions are always personalized and can be independent or combined with training packages. In addition, I have a blog called Fit Talk where I write short articles using information collected from my experiences as well as other reliable sources. Lastly, I run creative and fun Transformation Challenges which are group-style weight loss challenges based on % lost, not pounds.

Whether you're just starting out on your fitness journey or you need some help getting back on track, you have found the right trainer and cheerleader. When you commit to Get Fit with Ashley, you are guaranteed that personal touch that will leave you feeling noticed, appreciated and confident about yourself and what you've achieved. Everyone who brings their best effort and attitude will be successful. I will help you realize the best ways to measure our success… and it might not be getting back to that weight you were in your 20's… 🙂

An investment in a personal trainer is an investment in your life – your health, wellness and happiness. When you feel better about yourself, you treat others better. You're a better mom, dad, brother, aunt, coworker and friend. Only YOU have the power to give yourself those gifts, and you deserve to have them. Let me help you discover the strength within you to Get Fit, Be Healthy, and Live Well… for yourself and for those who care about you. Like I do!

Let's set up a free initial consult to get to know each other and find out how I can best support you. I already believe in you, so come Get Fit with me!

In health,
– Ashley.
---
---
Ashley's Credentials
Group Exercise Instructor, AFAA certified 2005
Personal Fitness Trainer, AFAA certified, 2011
Indoor Cycling Instructor, AFAA certified, 2012
Health Coach (Lifestyle & Weight Management), ACE certified, 2012
Tabata Boot Camp certified instructor, 2013
Youth Fitness Specialist, ACE certified, 2021
Senior Fitness Specialist, ACE certified, 2021
Barre Instructor, Barre Above certified, 2022
Clearances on hand: Criminal, Child Abuse, FBI
Red Cross First Aid, CPR/AED certified for adult, children and infants
Ashley's Experience
Dance aerobics instructor, Aerobic Rhythmics, 2004 – 2013
Indoor cycling instructor, Spring Valley YMCA, 2012 – 2016
Founder and owner, Get Fit With Ashley, LLC, 2012 – present